Here's a grilled cheese sandwich that's so sneakily nutritious and tasty, it has become a new regular dinner staple in our household! Even moms and dads will love this one and the kids can really get involved in making it, even young toddlers like mine! This post is sponsored by our friends, The Little Partners, who make The Learning Tower and are part of our Kids in the Kitchen series.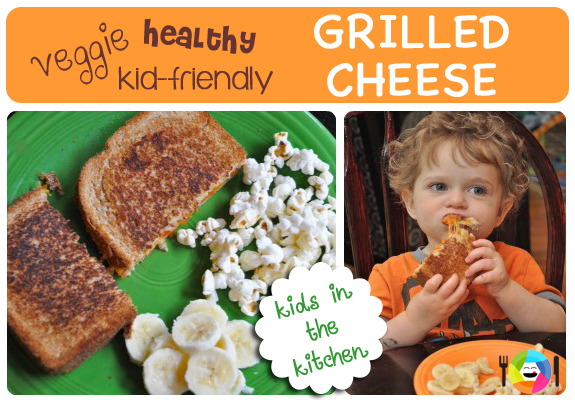 To get started, you'll need:
Whole wheat bread

Shredded cheddar cheese
Spices of choice – I chose ground mustard, seasoned salt, paprika, ground onion and garlic
One to two cups of fresh veggies
Butter or margarine (I like ones made of olive oil so we're not eating the nasty hydrogenated oils)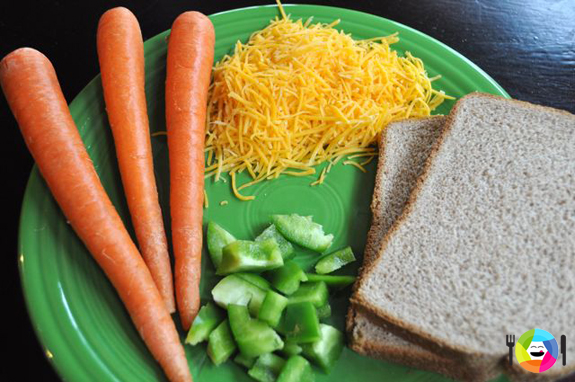 To make it easier to cook with my kids, I like to get all of my ingredients out and ready to go first, before I invite them up on their Learning Tower to cook with me. I let them use plastic knives and it's been working very well to teach them to cut safely (I tell them to keep the hand that holds the food away from the hand that's cutting it).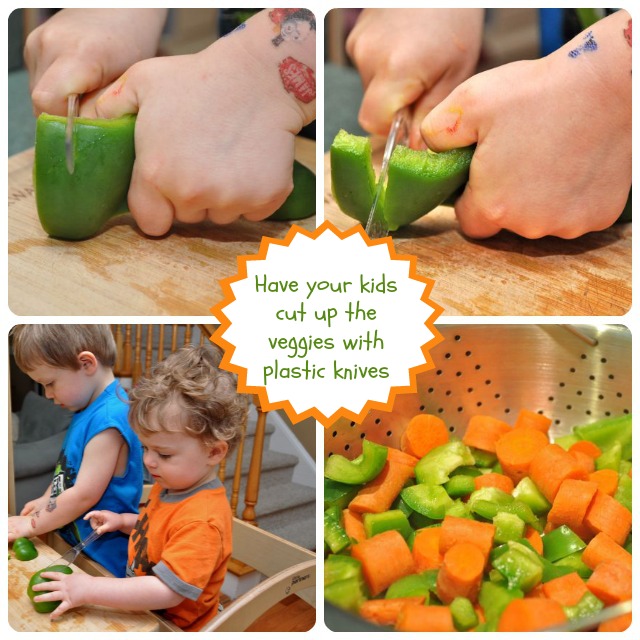 My oldest, Gabriel, who's three and a half, is able to cut really well. If your little ones just aren't ready for cutting, then get out their playdough and a toy knife and they can practice while watching you! As you can see in the above picture, both boys can be in their Learning Tower at the same time and stand side-by-side. Having the tower has made it so much easier for me to cook with them!
After cutting up the veggies, I steamed them in a pot on the stove, which took about 15 minutes.
While the veggies are steaming, the kids can use their plastic knives to spread butter on the bread. A little side note – didn't realize till after this was all over how it looks like I'm raising a redneck – dirty fingernails, hair unkempt, tats (Thomas the Train for now, but what will be next?) and a muscle shirt! The only thing he's missing is a Bud Light!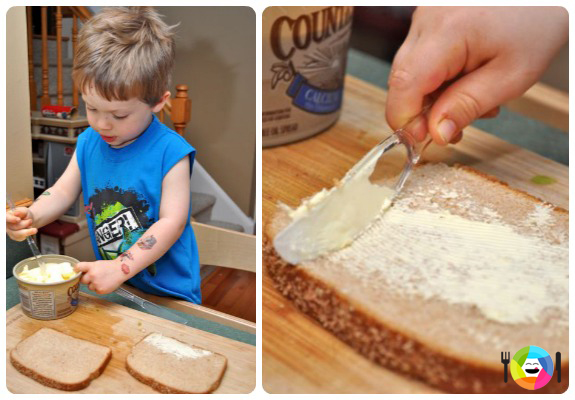 Once the veggies were soft, I put them in a bowl and had the boys take turns mashing them with a potato masher, which, of course, was accompanied by some grunts and tough guy faces! This makes for chunky veggies and my food processor is MIA with our recent move, so it was the only thing we could do. I do suggest using a food processor so you can make more of a paste, especially for the picky eaters who don't like their veggies. This is a sneaky way to add them in and make it healthy!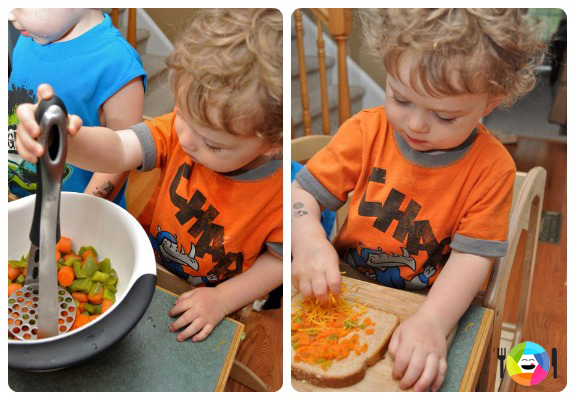 Then I had the boys spread the veggies on the non-buttered side and sprinkle the cheddar cheese on top. If you're worried about fat intake, there's always the option of low-fat cheese. Then we shook the spices on top (they don't mind flavor, but if your youngins' do, I'd skip the spices) and throw 'em on the skillet.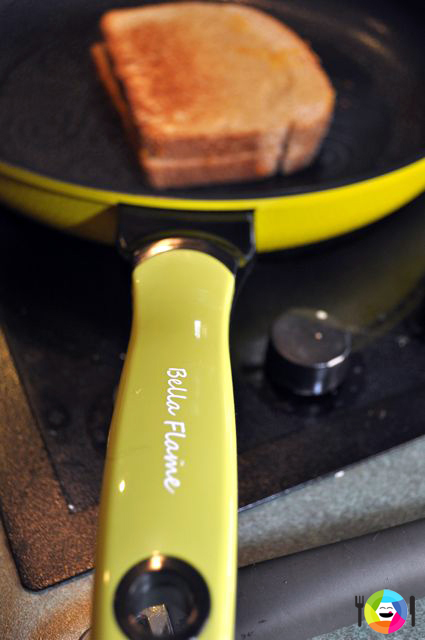 I must take a sec to talk about my new skillet – I ordered it off Amazon because my old Teflon-coated pan started chipping, I wanted a non-stick ceramic coated one that is non-toxic. This one from Bella Flame is awesome! I stay far away from Teflon now, after discovering it is carcinogenic when heated (so if it sits in your cabinets it'll be save to use…ummm) as it omits gases and eeks chemicals onto the food.
And last, but not least, enjoy!
Kids in the Kitchen - Veggie Healthy Grilled Cheese Sandwiches
A healthy approach to grilled cheese with veggies sneakily added!
Ingredients
2 cups shredded sharp cheddar cheese
4 slices of whole wheat bread
2 cups chopped veggies (I used carrots and peppers)
1 tsp. of each - ground mustard, pepper, seasoned salt, onion powder, garlic powder, paprika
Butter or margarine spread
Instructions
Steam the veggies in a pot on the stove (time depends on the vegetables - for carrots it takes 10 to 15 minutes).
While the veggies steam, butter one side of each piece of bread.
Mash up veggies or chop in a food processor
Spread the veggies with a knife on the non-buttered side of the bread.
Sprinkle the cheese on top of the veggies, or mix in a bowl with the veggies.
Add ½ of the spices on top of the cheese and form slices into a sandwich.
Saute in a skillet for 3 minutes on each side.
How does your family like to cook grilled cheese? Link up your posts or share your comments and stories below in the comments!